Modifiable Adsense Template For Bloggers
Posted by
Gosu
on 29 September, 2008
Would you like to have a Blogger template for which you can set body background color,link color and text color and test the performance of ad color schemes easily? Thinking your low Adsense revenue you will answer yes. Today i edited BlueAdsense template and made it Modifiable Adsense template. So what is this modifiable Adsense template ? For instructions keep reading.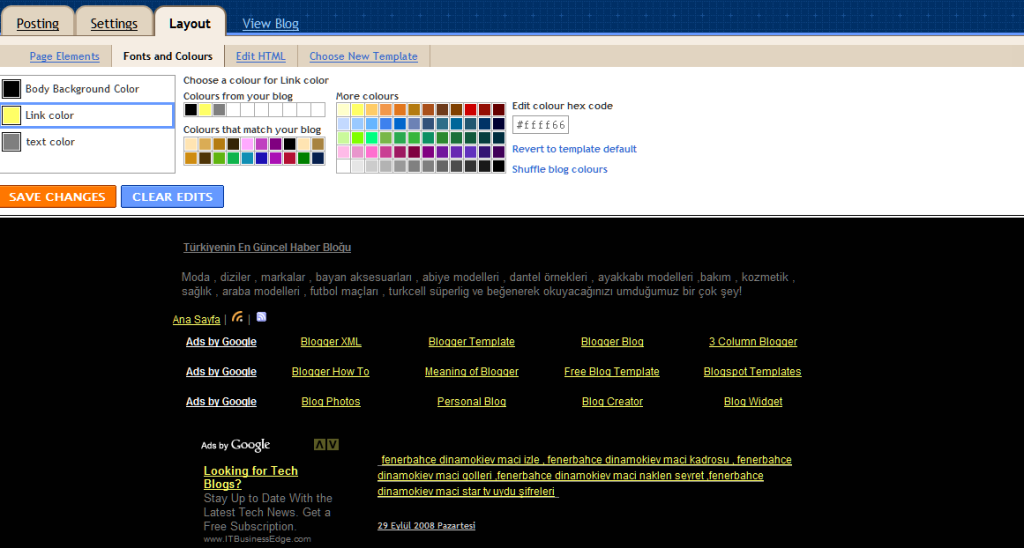 Above, i tried to test performance of a template with black background and yellow link color, so far results are good , CTR for this color scheme is %6.1 now . You can use different color scheme and test its CTR performance.
Installing and Editing Template
Download Modifiable Adsense Template and upload to the blog you want to use this template , now go to Layout and then click Fonts and Colors section , create your color scheme and save template.
Optimizing For Adsense
Body Background Color —-> Adsense Border and Background Color
Link Color —-> Adsense Title Color
Text Color —-> Adsense Text and URL Color
Thats all you need to do to get more clicks from ads , i will be glad if you share your blogs using this template, i want to see your color schemes