New Blogger Blogspot Web 2.0 , 3 columns,2columns,XML Templates Archive #5
Posted by
Gosu
on 20 January, 2008
Newest blogger blogspot templates i gathered from internet,there are really cool blogger styles , if i was a new blogger i wouldn't chose my template before checking the templates below.All blogger templates are XML templates (widget enabled) you can easily install blogspot templates and you can use them with no error thanks to designers of these templates.
This is blogbus, formerly is a wordpress template.
But now has been ported to blogger platform.
Introducin New WOW Smashing Xml Template!You Will Really Like And Appreciate it.It Is Designed Uniquely and Converted From WordPress to Blogger.
Enjoy!
Always backup your current template first before installing the template!
This 3 column blogger template is brought to you by Blogger Templates-free online source of Blogger templates and Blogging tips.
Plantilla Blogy Web 2.0 Template Specially for Blogger!Look Very Cool.Please Check it Out!
I am Waiting For You Reviews!

New Blue PlantillaWeb 2.0 Blogger XML Template From Word Press.Looks Decsently!
New Plantilla Blogy Stylecious Blogger Template having 3 Columns and i Think it Will Fulfill You Needs;)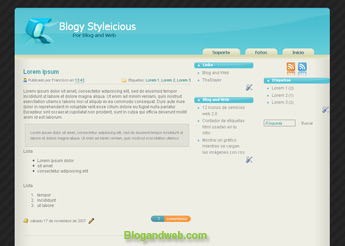 You can use it for personal or business with the sole condition that they respected credit, returning a link to Blogger Templates

Features:
Two sidebars
A label cloud in the widebar
Styled blockquotes
Custom favicon
Download:

3 column blogger template optimized for adsense or other online earning programs.
Notes: You can use your own picture as header image. Image Size: Width: 870px, Height: 180px
Note: You can use your own picture as header image. Image Size: Width: 780px, Height: 180px
i copied these templates from here since i dont know designers url i could not share it with you all