5 ways to increase your entrecard traffic and entrecredit.
Posted by
Gosu
on 23 January, 2008
This item was filled under [
News
]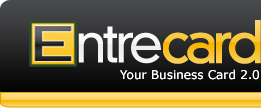 I do not know how many unique visitors do you get daily, from entrecard ,but there is craziness about entrecard thing,however i get only 8 unique visitors per a day from entrecard clicks,since i experinced a few things with entrecard i wanna tell you uselful entrecard tips & tricks ;
1-Drop a card to every blog you see entrecard widget to get entrecard credits,because you need entrecards to advertise on other blogs.
2-Dont advertise before checking blog,your advertising will make no sense on blogs which have wack layout.Because people closes the window when they see bad template,and they scrolls down till the footer when they come across with a great template style.
3-Check blogs rating on alexa.com and advertise on those whose rank is between 1-1,000,000,pagerank isnt criteria for advertising.
4-Put your widget to the main page where people can see entrecard widget without scrolling down,people will wait in quene to advertise on your blog and this will bring you great amount of entrecredits.
5-Put an atractive image to to your entrecard profile to get people's attention on blogs.
This five tips enough for you to boost your traffic.But entrecard doesnt bring enough traffic to change your alexa rating.It was like a fashion its come and went.Only new bloggers get busy with entrecard thing.And advertising on new bloggers for a day wont change anything.But try to get link from them since its easy to get link from new bloggers, and remember that one day they will have pagerank too and you will understand the benefits of getting link from new bloggers.